By Karlo Gesner – karlophotocommercial.com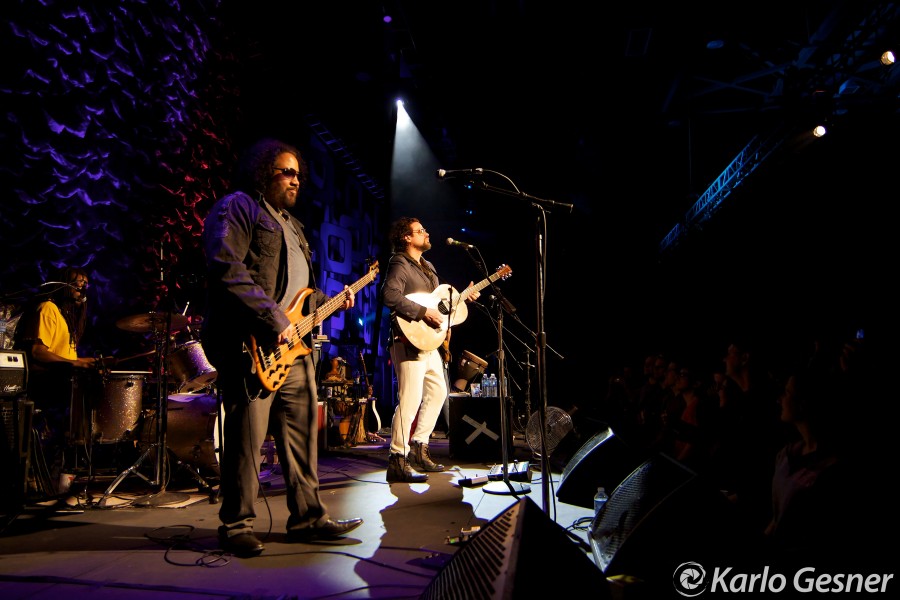 I have always been a wide-angle shooter. I guess that comes a lot from the influence of action sports & music that I've always gotten a rush out of that's made me this way. Even today, as a wedding & engagement photographer, wide-angle = cool. It eats up rooms, creates a sense of space within the scene, and just makes the image look more "Epic."
At the time I encountered the Canon EF 14mm f/2.8 L II USM Wide-Angle Lens, I was going through the mixed emotions of selling my original wide-angle (A Sigma 10-20mm f/4-5.6). It was made for a cropped sensor and would no longer mesh with my new setup as I had just ordered an original 5D for my primary body. In the meantime, I needed something wide to shoot the upcoming Launch Music Conference for Tri State Indie and the 14mm would have to go on my Canon 50D while I waited for my new camera to arrive.
That being said, these images are not a true representation of the field of view that a 14mm will produce on a full-frame body. Using the 50D with a crop ratio of 1.6x effectively turned the 14mm into a 22.4mm. This may offend some purists and negate this review for some, but in the real world when you have an assignment staring at you in the face, you use what's available to you in the moment and make the best of it. That being said, this was an incredible lens for the job (and for those purists out there, I'll make sure to follow up w/ a review using a full-frame to make up for it).
First up on the schedule was Rusted Root. As soon as they took the stage the tribal rhythms filled the room and infected everyone in the room. Bodies swayed and twirled and I made my way to the front left of the stage. My first impression of the lens was the sharpness and clarity. This is an L series lens after all and it did not disappoint in that department. I particularly enjoyed how the wideness of the lens allowed me to play with the depth and dimension of each composition and created shots like the one above.
Moving onto Kingfoil. This local band from York has always been a favorite with their smooth catchy pop, reminiscent of "The Script" or "The Fray". Plus, their new drummer is Frankie Muniz! Yes! That Frankie Muniz (from Malcolm in the Middle)! And he's good! The lighting at this particular venue was tricky, you could only see a few key members. I decided to highlight this shot with the similar lighting used to illuminate the venue's placard.
My vote for "Most Likely to Succeed" goes to Darling Parade. There's just something about a good female rock lead that always impresses me. She reminded me of a younger Joan Jett with her raspy vocals and occasional sneers. Pop/punk at it's best was the best way to describe this one. I made my way through the crowd and took some blind "over the head shots", trying to gauge my aim as best of possible while still getting the timing right. Just made sure to keep my focus on the center square and hold steady.
This leads me to Lancaster's own Amateur Theory. The ballroom at the Brunswick Hotel smelled like bodies from all the mosh pits of the day. It smelled like a freshly evacuated locker room after the big game. The band originally lured me in with their cascading poly-rhythms and quickly exploded into unabashed chaos. The Canon EF 14mm f/2.8 L II USM Wide-Angle Lens ate up the scene. It allowed me to sneak in between the bass player and the drum riser and still get a great shot of the singer going nuts. Perfect lens for being in such a cramped space.
Finally, one of my favorite acts from the weekend was Canyon. Oddly enough, the best part of the show at Tellus 360 was the sound check (and that's not an insult). There were around 5 of us in the room and Canyon Sharitis and her partner Andy showed their character and intimate nature of their music by sharing stories, trying out a few new songs, and basically engaging with the 5 of us. Shortly after, the room filled to capacity and they started their set which was also great. The old wood of the room made for an incredible warm sound that matched the duo perfectly. For this shot, I wanted to show how intimate the performance was by framing the subjects with the crowd. This was shot hand held at 1/50th of a second. I just had to make sure to hold steady and I took multiple shots to better my chances. I'm pretty pleased with how it came out.
I love love love this lens. Mainly due it's sharpness and clarity. I have played with the Canon EF 16-35mm f/2.8 L II USM previously (which I actually heard Wes was ordering today to add to the rentals) and it had a different feel. As with any prime lens, you have to work a little harder to compose your shot but the shot you get is always worth it. One thing I do want to note is that the glass protrudes from this one in a "fisheye" like manner. My camera strap holds the camera at my side like a sling, and it made me a little paranoid about bumping or scratching the glass. That being said, I kept the lens cap on it every single time I wasn't actively shooting with it just to be safe.
This is definitely a fun one to rent if you love wide-angles, or even if you have never tried one. Like I said, all these images were shot on a cropped sensor but I plan on re-taking the lens out for a spin and shooting some interiors to share. In the meantime, check it out.